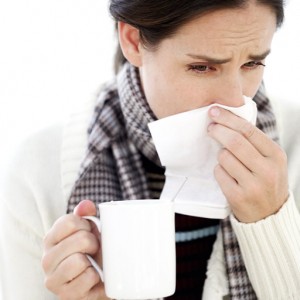 Do you get more than two colds or bouts of the flu per year? If so, it may be a sign of a weakened immune system. Follow these six secrets to build your immune system this season.
Exercise--Any exercise is better than no exercise.

Think of the ways you can get moving throughout your day, the times when you can stand instead of sit and how you can find enjoyment in being active, regularly. Did you know that walking is one of the most effective exercises? Think of walking like an invigorating massage for every cell of your body.

Multi-Vitamin--Preferably one with aloe vera juice. Studies have shown that the absorption of necessary vitamins C and E is significantly increased when taken in conjunction with an aloe supplement. I prefer a liquid, organic multi-vitamin that includes aloe vera juice, such as the one we carry at our office. Drop by for a free tasting sample.
Chiropractic Immunity Adjustment--Subluxations are subtle misalignments in the spinal column that put pressure on the exiting spinal nerves that run the organs and systems of the body, such as the immune system. Subluxations may be caused by falls, sleeping funny, bad lifting or bad posture such as prolonged computer/desk work. Subluxations increase the stress hormone cortisol in the body. Stress may tax the body and decrease immunity. Research suggests a link between a specific chiropractic adjustment of the upper cervical spine that may boost white blood cell count up to 300% and give a powerful punch to fight infection. Schedule a time for a free consultation to see if chiropractic is right for you.

Water--Is 8 glasses a day the right amount for you? It turns out that that amount is for someone who is truly dehydrated. For those who stay fairly well hydrated, aim for 4 to 5 glasses a day of filtered water.

Sleep--Most people require 7 to 9 hours of sleep daily. A good way to measure your sleep needs are to spend a weekend or even better, a week, allowing yourself to wake uninterrupted. After you've caught up on sleep-debt, you may see a pattern in the hours your body wants to spend sleeping.

Managing stress--In the office, I teach a FREE Championing Stress class*. One tip we talk about in the class is pacing. It may seem obvious, but the task of pacing is often overlooked. Pacing means that if you know you have a big project coming up such as a wedding or large work/school project, you may want to postpone other non-essential tasks for later. *The next Championing Stress class will be taught 12/12 and includes lunch on me if you RSVP to (360)823-2225 while seats are still available. Reserve a spot for yourself and a friend.
I often get other questions on the topic of immunity. What about anti-bacterial soap, and should I wipe surfaces down with anti-bacterial wipes? Also, do pets help or are they detrimental to immunity (and allergies for that matter)? Look for our upcoming blog posts to get answers to these important questions. Be sure you are a follower to this blog so you will know when those posts are available.
Best in health, naturally,
Dr. Marc
'Giveaway! Free Tickets to Sauvie Island's Corn Maze'
happening now!
References:
Vinson, JA. Effect of Aloe Vera preparations on the human bioavailability of vitamins C and E. Phytomedicine 2006; 12(10):760-765
Google Images